Technology
Intraoral Digital Impression
Intraoral Scanning is a special type of 3D dental scan that takes detailed digital impressions of the teeth and gums. Intra-oral scans aid in denture creating, teeth alignment planning, dental implant placements, preventative dentistry and more. Here at Blossom River Dental, we utilize the Medit i500 scanner to generate precise digital impressions using a unique triangulation technology coupled with two high speed cameras. Having intraoral scanners allows us to efficiently and accurately gain 3D visualization of the patient's teeth and gums, which can be used to assess issues and determine potential treatment plans.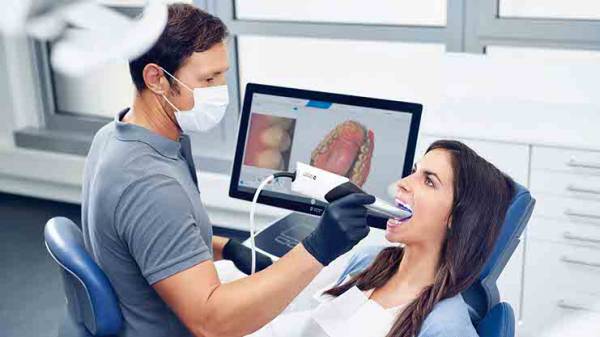 References
Cone-Beam Computed Tomography Systems (CBCT)
The Cone-beam Computed Tomography System, or CBCT, is a type of computed tomography system that rotates around a patient and captures around 150-200 images in less than a minute using a cone-shaped X-ray beam. In comparison to standard X-rays, scans taken by the dental CBCT show images of the teeth, mouth, jaw, neck, ears, and throat in much more detail using different views and angles as well as less radiation. The CBCT also requires fewer scans as the cone beam CT scans can show bones and soft tissue.
CBCT machines are especially beneficial as they offer a fast and non-invasive method of visualizing the anatomy of a patient's dental, oral, and maxillofacial regions. The scan can be used to see all bones, nerves, and soft tissue in high detail.
CBCT Scans have multiple uses, including:
Providing accurate measurements of your jaw
Reducing the risk of misaligned implants
Evaluating sinuses, nasal cavity, and nerve canals
Detecting any lesions that might indicate serious disease as well as locating the origin of any pain
Cleft palate assessments and any sort of diagnosis of dental trauma
Not having the CBCT machine can delays treatment due to the hastle of sending scans to external labs. Here at Blossom River Dental, our CBCT scan helps us for proper treatment planning for implants as well as root canal treatment, not only accurely but also effectively.
As you can see, the Cone-Beam Computed Tomography Scan is an invaluable piece of modern technology essential for fast and efficient diagnoses and treatments.
References
Related Posts
When you cannot reach an emergency dentist, relying on professional tips can help relieve your toothache. Dental issues can spring up all of a sudden, and when you are in a situation where you cannot access an emergency dentist, effective tips are all you have. Some solutions may be quick-acting, while others may help manage…