Technology
Intraoral Digital Impression
Intraoral Scanning is a special type of 3D dental scan that takes detailed digital impressions of the teeth and gums. Intra-oral scans aid in denture creating, teeth alignment planning, dental implant placements, preventative dentistry and more. Here at Blossom River Dental, we utilize the Medit i500 scanner to generate precise digital impressions using a unique triangulation technology coupled with two high speed cameras. Having intraoral scanners allows us to efficiently and accurately gain 3D visualization of the patient's teeth and gums, which can be used to assess issues and determine potential treatment plans.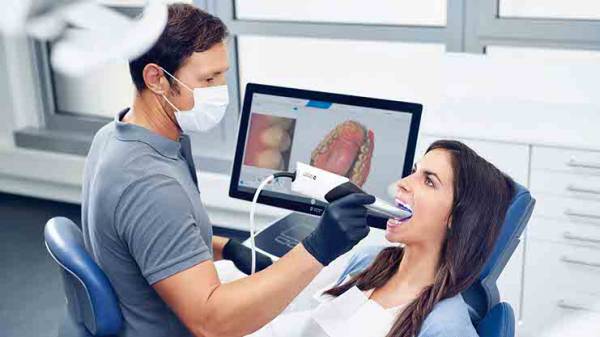 References
Cone-Beam Computed Tomography Systems (CBCT)
The Cone-beam Computed Tomography System, or CBCT, is a type of computed tomography system that rotates around a patient and captures around 150-200 images in less than a minute using a cone-shaped X-ray beam. In comparison to standard X-rays, scans taken by the dental CBCT show images of the teeth, mouth, jaw, neck, ears, and throat in much more detail using different views and angles as well as less radiation. The CBCT also requires fewer scans as the cone beam CT scans can show bones and soft tissue.
CBCT machines are especially beneficial as they offer a fast and non-invasive method of visualizing the anatomy of a patient's dental, oral, and maxillofacial regions. The scan can be used to see all bones, nerves, and soft tissue in high detail.
CBCT Scans have multiple uses, including:
Providing accurate measurements of your jaw
Reducing the risk of misaligned implants
Evaluating sinuses, nasal cavity, and nerve canals
Detecting any lesions that might indicate serious disease as well as locating the origin of any pain
Cleft palate assessments and any sort of diagnosis of dental trauma
Not having the CBCT machine can delays treatment due to the hastle of sending scans to external labs. Here at Blossom River Dental, our CBCT scan helps us for proper treatment planning for implants as well as root canal treatment, not only accurely but also effectively.
As you can see, the Cone-Beam Computed Tomography Scan is an invaluable piece of modern technology essential for fast and efficient diagnoses and treatments.
References
Services
Perioprotect
Perioprotect is a safe, effective, and minimally invasive dental treatment approach that involves the use of customized oral trays to deliver medication deep into the periodontal pockets, reducing inflammation and promoting healing. The method is minimally invasive, making it an ideal option for patients who seek a less invasive solution for treating periodontal disease.
Periodontal disease is a chronic bacterial infection that affects the gums and the supporting tissues of the teeth. Symptoms can include bleeding gums, bad breath, and loose teeth. If left untreated, periodontal disease can even lead to tooth loss. Traditional treatment options include scaling and root planing, surgery, and antibiotic therapy. While effective, these treatments can be invasive and require multiple appointments.
Advantages of Perioprotect include
Minimally invasive procedure in comparison to other treatments for periodontal disease
A comfortable and convenient method of treatment
The Perioprotect method involves the use of a custom-fit oral tray that is worn for short periods each day. The tray contains a medication, typically a low concentration of hydrogen peroxide or a combination of hydrogen peroxide and chlorine dioxide that is delivered into the periodontal pockets. The medication helps to kill the bacteria that cause periodontal disease, reducing inflammation and promoting healing.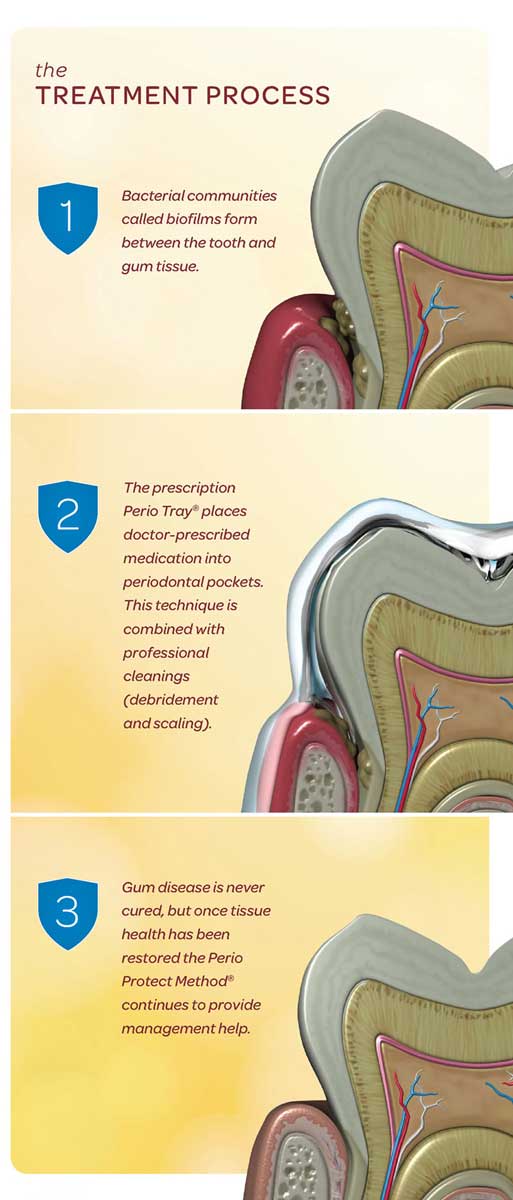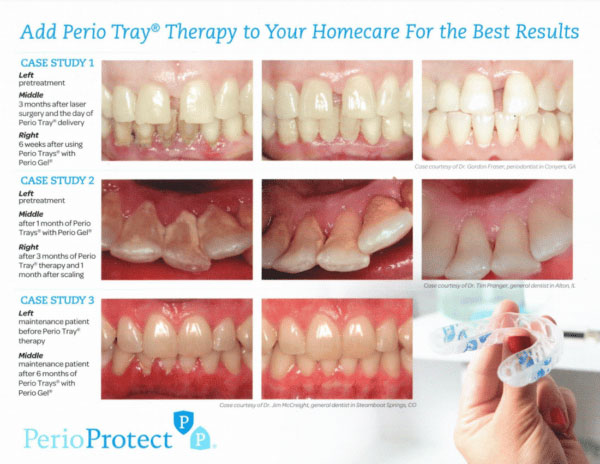 The perioprotect method has been shown to be effective in treating mild to moderate periodontal disease. It can also be used as a maintenance treatment to prevent the recurrence of periodontal disease after traditional treatments have been completed. The process of getting started with Perioprotect involves a consultation with a Perioprotect-certified dentist. During this consultation, the dentist will evaluate the patient's periodontal health and determine if Perioprotect is a suitable treatment option. If so, the dentist will take impressions of the patient's teeth to create custom-fit trays. If you are experiencing symptoms of periodontal disease, it is important to seek treatment from a qualified dental professional to protect against further damage to your teeth and gums.
References
Pinhole Technique
Pinhole Technique for gum rejuvenation is a minimally invasive procedure that helps to reverse the effects of gum recession. First introduced by Dr. John Chao in 2006 as an alternative to traditional gum grafting surgery, the pinhole technique involves making a small pinhole-sized incision in the gum tissue, and then using specially designed instruments to gently loosen the tissue and move it down to cover the exposed root surface.
The Pinhole Technique is considered a minimally invasive procedure because it requires no cutting or stitching of gum tissue. The procedure is performed under local anesthesia and typically takes between 1-2 hours to complete. Patients can expect minimal discomfort and swelling after the procedure, and most are able to return to work or normal activities the next day.
Advantages of the Pinhole Technique:
Less invasive and painful than traditional gum grafting surgery, which involves a painful and lengthy process
Faster recovery time and less downtime for the patient
Significant cosmetic improvements in the appearance of gums, as the technique works to restore the natural contours of the gum line leading to a more aesthetically pleasing smile
If you are experiencing gum recession and are looking for a minimally invasive treatment option, the pinhole technique might be the right choice for you. Learn more about the pinhole technique with this link.
References
ARESTIN
ARESTIN, otherwise known as minocycline hydrochloride, is a local antibiotic that kills bacteria and is applied directly in infected areas of the gum after a scaling and root planing procedure (SRP) has been completed. When a patient has gum disease, their gum pockets deepen to allow tartar deposits to form under the gum line. A scaling and root planing procedure is done to deep clean a patient's teeth and gets rid of harmful tartar and bacteria. Scaling involves removing the dental tartar from the surface of the tooth while root planing is the process of removing parts of the tooth that are infected. After the SRP procedure, the ARESTIN medication is placed directly in the infected areas of the gum, or right at the gum pockets. ARESTIN is composed of particles filled with antibiotics that stick to the base of the infected gum pocket and release antibiotics over time to fight bacteria for up to 30 days. The procedure works best to reduce the length of gum pockets and provides better results than scaling and root planing. There are many advantages to choosing ARESTIN as a form of treatment, as it is a non-invasive procedure and works effectively and painlessly.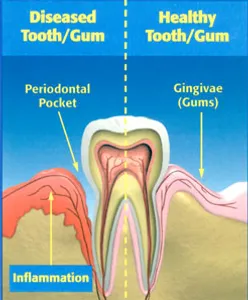 Sources
Inlays & Onlays
Dental Inlays and Onlays are typically inserted when the tooth is damaged or decaying and can often be inserted in place of traditional fillings or full crowns. This treatment option is recommended when the tooth still has a moderate amount of healthy natural structure and the damage is not extensive enough for a full crown. While traditional fillings reduce the strength of the tooth by up to 50%, porcelain or composite inlays and onlays can increase tooth strength by up to 75% and offer a more long-term solution as they last from 10-30 years.
Dental inlays are typically used to deal with small amounts of tooth damage that does not reach the cusps or extend past the center of the tooth. Dental onlays on the other hand are used more for more external damage of the tooth that can extend onto the cusps or chewing surface of the tooth. Inlays and onlays are usually made from porcelain or composite resin, as they are directly bonded to the damaged area of the tooth and prevent recurring decay. Additionally, both materials blend seamlessly with the natural color of the teeth and give patients an aesthetic smile.
Some advantages to inlays and onlays include
The preservation of the majority of your natural tooth
Inlays and Onlays are extremely durable and improve the appearance of your smile. They also blend seamlessly with the teeth and do not stain.
Offer a long-term solution and can last for up to 30 year
Increase the strength of the tooth than traditional fillings would
If you think you could be a candidate for an inlay or onlay, reach out to a certified dentist for a consultation. To learn more about inlays and onlays visit this link.
References
Related Posts
Deciding that it might be time to start considering dentures isn't always the most exciting conversation. However, it can be challenging for many people to determine if they are ready for dentures or if there is another option. First, it is crucial to recognize that most of us will have dentures at some point in…